Mt Hood Village RV Resort
65000 E. Hwy 26 Welches, OR 97067
Mt Hood Village RV Resort
65000 E. Hwy 26 Welches, OR 97067
Mt. Hood Village RV Resort in Oregon opened in 1984 and has always been known throughout the industry as the premier RV park in the Northwest. The Village offers a variety of guest accommodations, including vacation cottages, rustic cabins and yurt rentals. Also available at Mt. Hood Village are more than 300 wooded RV resort sites. This particular park in Oregon is a perfect location for large family gatherings, retreats of all kinds, or a quiet romantic weekend getaway in the mountains.
Fun and adventure for all ages can be found within minutes of Mt. Hood Village RV Resort. Explore outside of the campground and visit the Mt. Hood National Forest to enjoy a variety of activities including rock climbing, bird watching, mountain biking, miniature golf, fishing, lakes and streams to explore, the Alpine Slide, a 27-hole golf course, and more than 700 groomed hiking trails. Head up the mountain to historic Timberline Lodge, which is the only location in the United States that offers year-round skiing and snowboarding. Join the fun at the Huckleberry Festival and Salmon-Mushroom Festival, two of the regions regular events nearby Mt. Hood Village RV Resort in Oregon.
Resort Amenities
Clubhouse

Bike Trails

Swimming Pool

Whirlpool/Spa/Hot Tub

Creek / Lake / Canal / River or Ocean Frontage

Fitness Center

RV Storage

Pet Friendly

Restaurant

Store

Nature / Hiking Trails

Restroom/Shower Facilities

Laundry Facilities

Indoor Pool

Picnic/BBQ Area

Playground

Volleyball

Horseshoes

Ballroom/Banquet Hall

Game Room/Billiards

Library

Business Center

WiFi Hotspot
Resort News
Exciting News - Improvements Underway at Mt Hood Village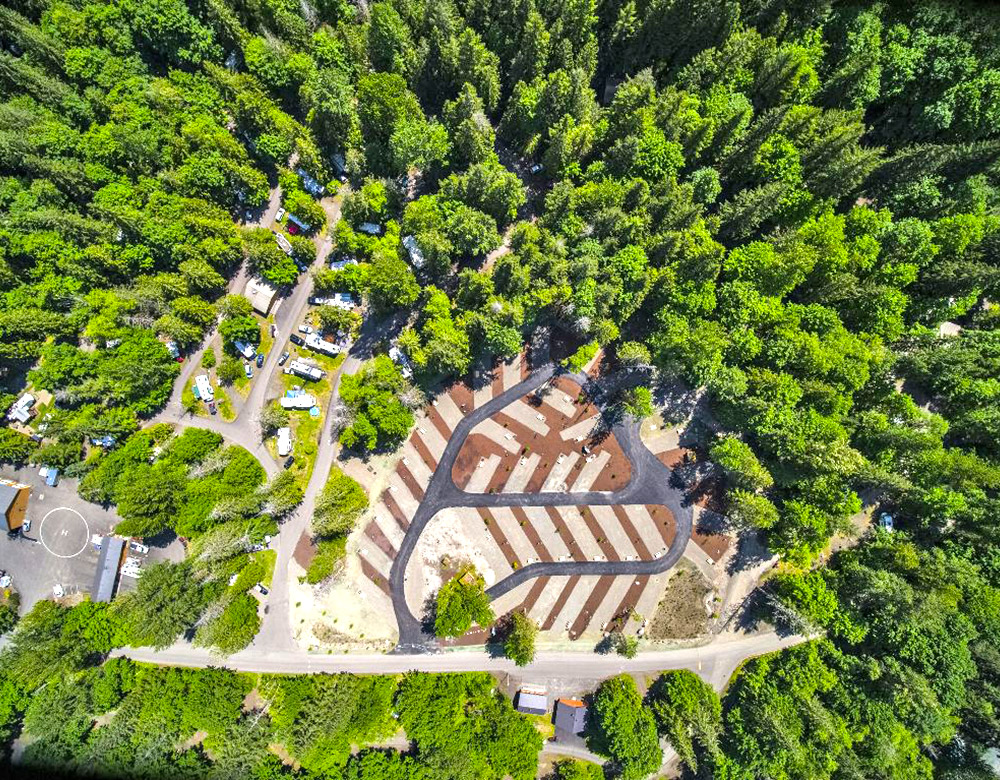 Pardon our dust! The below new and exciting upgrades are coming:

110 New RV Sites
Renovated Lodge
Activities
Whether you're planning a retreat for the whole family, a group of friends or a getaway for two, there's no shortage of unique activities to explore at Mt Hood Village RV Resort.
We offer seasonal (marked by *) and year-round activities. Plan activities upon arrival or visit this page before your departure to plan ahead.
Looking for more? Call our friendly staff to find out which seasonal activities are available. We can fill you in on all of the great ways to make your stay a memorable experience.
We currently offer the following activities:
Game Room
Basketball
Children's Playground
Line Dancing
Stream Fishing
Volleyball
Badminton
Indoor Pool, Jacuzzi, and Saunas
Horseshoe Pits
Fitness Center with Cardio Room & Weight Room
Hiking/Nature Walks
Activities Director*
Arts & Crafts*
Children's Activities/Games*
Karaoke*
Fun, Planned Family Activities*
Policies
Our cancellation policies have been temporarily updated due to COVID-19. Please click here to review the new policies.
COVID-19 Liability Disclaimer
The novel coronavirus, COVID-19, has been declared a worldwide pandemic by the World Health Organization. COVID-19 is extremely contagious.

This property has put in place enhanced health and safety measures intended to reduce the spread of COVID-19. You must adhere to all property rules, as well as all health advisories issued by relevant governmental and health authorities, relating to COVID-19 social distancing and hygiene practices during your stay with us.

However, there is an inherent risk of exposure to COVID-19 in any public place and there is no guarantee that you will not become infected with COVID-19.

By your entry upon the property, you voluntarily assume, on behalf of yourself and any minors in your custody, all risks related to the exposure of COVID-19, whether a COVID-19 infection occurs before, during, or after entry upon the property. Neither the property nor any of its affiliates shall be responsible for any exposure to COVID-19.

Let's keep our community safe and healthy.
Policies & General Information:
RV check-in: 12 noon
Rental check-in: 4 p.m.
Check-out: 11 a.m.
Minimum check-in age is 18 years old.
Guests aged 12 years old and under at the time of check-in are considered children.
Pets are allowed except in select rentals.
The rates displayed do not include any applicable service fees or charges for optional incidentals.
For late arrival arrangements, please contact our Reservation Department at (800) 255-3069.
To make changes to your reservation please call our Reservation Department at (877) 864-2728 and specify that you booked your reservation online.
Reservation & Payment Policies:
Your credit card will be charged one night rack rate prior to arrival.
Prices and site type are subject to availability.
Displayed rates and package prices are subject to change.
Site assignments cannot be guaranteed.
The maximum amount of persons on a site is 6 total (including children). Guests who have more than 6 persons will need to purchase an additional site.
A $4 resort fee applies to all reservations less than 30 days.
A $30 cleaning fee applies to all Rental Reservations.
If I used a credit card for a deposit, guarantee or payment, I authorize MHC Property Management L.P. to charge any expenses incurred during my stay to that credit card or apply funds you have on deposit with us against what I owe.
Cancellation and Refund Policy:
If a RV/Tent site reservation is cancelled at least 2 days prior to arrival, an administrative fee of $25 will be charged prior to refunding any advance deposit. Otherwise the one night deposit will be forfeited.
If a rental reservation is cancelled at least 7 days prior to arrival, an administrative fee of $25 will be charged prior to refunding any advance deposit.
Rental reservations that are cancelled within 7 days of arrival are not eligible to receive a refund.
In the case of multiple sites booked, cancellation penalties apply to each site that is cancelled or changed.
No refunds will be issued for early check-out.
No shows are subject to a penalty of the equivalent of the Itinerary Total.
From May 28, 2021
RV campsites: We allow full refunds for cancellations up to 48 hours prior to your arrival date for daily and weekly reservations.
Rental accommodations: We allow full refunds for cancellations 7 days prior to your arrival date for daily and weekly reservations.
Daily and weekly reservations: for cancellations received less than the required notice period prior to arrival, your deposit will be forfeited up to $250.
Extended stays: For long-term reservations (28 days or longer), we allow full refunds for cancellations up to 60 days prior to your arrival date. For cancellations received less than the required notice period prior to arrival, the deposit amount will be held on account for a future stay.
Helpful Information:
WiFi Hotspot located in the Lodge.